Build the World Trade Center Memorial
Index
>>>>>>>> Memorial Finalist Michael Arad - Reflecting Absence




Congratulations to the WTC Site Memorial Finalist Michael Arad of NYC : Reflecting Absence
[Statement | Illustrations & Models | Biography/Credits | Animation | Original Submission]

---

Similarities to WTC SITE MEMORIAL COMPETITION: Applicant #350498
The tower footprints are preserved as reflection pools with two waterfalls. Japanese weeping cherry trees encircle the pools, reflecting delicate pink blossoms early Spring.

---

WTC Site Memorial Competition:
View the Finalists designs released on November 19th, 2003.
The exhibition will be on display at the Winter Garden at the World Financial Center;
open to the public from 7am-11pm.
Give to the World Trade Center Memorial Foundation : July 18, 2003

The World Trade Center Memorial Foundation has been established to accept funds for the construction of a permanent memorial at Ground Zero. If you would like to contribute, please send a check, made payable to the World Trade Center Memorial Foundation, to the following address:

World Trade Center Memorial Foundation, Inc.
P.O Box 5024
Bowling Green Station
New York, NY 10274-5024

From the Archives in September-December 2001:
---

Rebuild the World Trade Center
Memorial - Triple Tower Complex

THE FINAL DECISION : Contract Awarded to Studio Libeskind

Plans given the rebuilding contract by LMDC on February 26th, 2003
Studio Libeskind.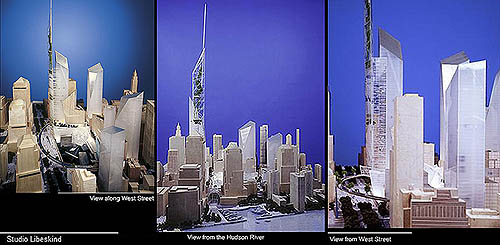 LMDC


Plans at LMDC(released December 18th, 2002.) View the concept designs.
Original Six Plans

(1)Memorial Plaza (2)Memorial Square (3)Memorial Triangle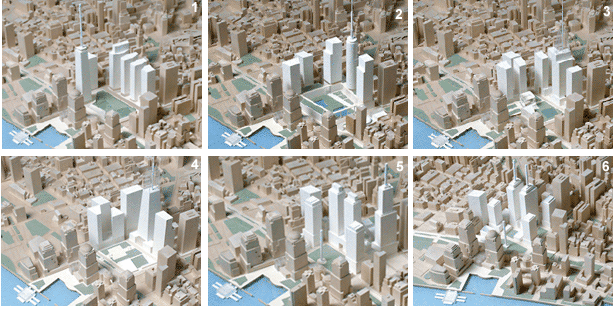 (4)Memorial Garden (5)Memorial Park (6)Memorial Promenade


Triple Towers Proposal
"I propose the building of three huge towers, visually identical to the previous towers. The open areas should be glass encased climate controlled areas for people to enjoy year round. In other words, the public use applications of the Wintergarden should be expanded to the entire plaza. The entire complex should employ 24 hour security with retinal scans"......L. A. Bernstein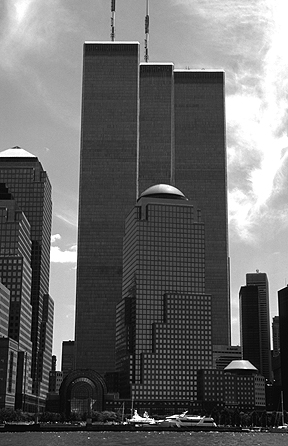 As the healing continues, we are ready to consider the numerous plans and ideas for reconstruction on the former site of the World Trade Center. While there has been much discussion regarding preservation of the footprints of the towers, it seems financially unrealistic to maintain that quantity of open space.
Since the unveiling of the six plans on July 17th, many New Yorkers appear to be less than thrilled with the designs. To a great extent, the Twin Towers have been such a dynamic element to our skyline, it hardly seems fitting to diminish the scale. Yes, we need a large Memorial Area, for the families and friends who have suffered such a tragic loss. However, it is crucial not to forget the financial issues and implications for lower Manhattan as well.
I propose the building of three huge towers, visually identical to the previous towers.
In response to this proposal, Joe Middendorf from Cincinnati, Ohio has made a beautiful suggestion. He proposes naming the three towers, "Liberty"-"Freedom"-and-"Justice." This is a beautiful and patriotic tribute to the 2800 individuals lost on that tragic day for Lower Manhattan.
The open areas should be glass encased climate controlled areas for people to enjoy year round. In other words, the public use applications of the Wintergarden should be expanded to the entire plaza. The entire complex should employ 24 hour security with retinal scans at each and every doorway, stairwell and elevator bank. I know this may sound like a scene from "Minority Report" but if we already have the technology, why isn't it being used now?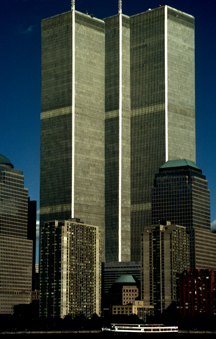 Since it is widespread knowledge that criminals return to the scene of the crime, or terrorists would consider this rebuilt area another wonderful target, it stands to reason that the security for all employees, visitors and tourists needs to be upgraded to the maximum. Yes, each and every tourist visiting the WTC Memorial or Observation Deck should be retinally scanned. Each and every tourist should either check their cameras and camcorders at the door, or apply for a certified photographer's pass. Cameras and pictures are not allowed in the U.S. Mint. Backpacks, bags, cases, and purses are not allowed when visiting Hoover Dam. Why should we allow tourists (and potentially terrorists) to so easily and freely research for attack by videotaping or photographing key ndmarks, subways, bridges, and tunnels?
The Third Tower should encompass the Office of Emergency Management with complete surveillance operations of land, sky, and sea on the uppermost twenty five floors. This tower should also include offices for Homeland Security, the FBI, CIA, and INS. The Third Tower should also include all of the top Federal, State, and City Offices. Since many people have stated it would be too hard to refill towers of this magnitude, government agencies should be the first tenants. Other businesses will follow, assuming that the Federal Government will provide assistance in insurance.

The Third Tower should also include numerous floors of a memorial to all those individuals lost....incorporate all of the families and give a set amount of cubic feet to build multimedia shrines to each and every individual lost. Build a symbolic mausoleum for each and every victim, NOT just a name on a wall like the Vietnam Memorial. Visitors to this Memorial should get a sense of each lost soul's individuality, personality, and what qualities made each individual so special to their family and friends.

Yes, to accomplish this goal, it will require and encompass many floors of space. The third tower should not show continuously looped video of the impact and explosions on 9/11; nor the squashed vehicles, twisted metal, clouds of debris, people fleeing in the streets, the horrific whiteout of lower Manhattan and devastating destruction. These images are etched in our memories and not appropriate for a memorial exhibit.

This third tower's Memorial Exhibit must also remind people and show what was there before 9/11; the vibrancy of the stores, restaurants, and commercial offices, images of the popular Orchid Show, people strolling along the waterfront, public concerts and events at the Wintergarden, tourists enjoying the Observation Deck, and Windows on the World, or dining at the Hudson River Club.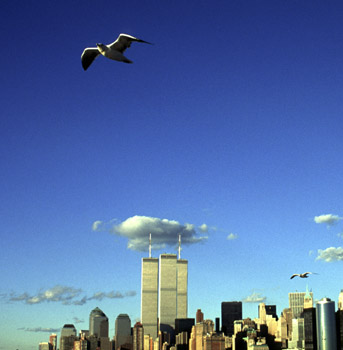 The structural and safety issues need to be addressed. If the original design of the World Trade Towers floors maximized office space but diminished structural integrity, then re-building must address the structural issues first so that we learn from the tragedy of 9/11.

Evacuation drills and new modes of evacuation from upper floors (above 50 stories) needs to be re-examined.

Would it be discriminatory to exclude wheelchair-bound individuals from working above the fiftieth floor for their own safety? Until we have addressed new techniques for the FDNY to fight fires in high-rise skyscrapers, it is fair to expect these heroes to walk up narrow stairwells with 50-100 pounds of gear and no reliable communications system? Why aren't there separate stairwells, for Emergency Personnel use only? Why aren't there any chute-like or parachute-like evacuation gear designed for emergency escape routes?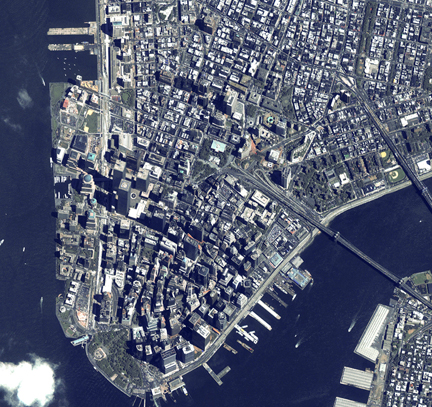 How can we more safely evacuate large numbers of people and not endanger our rescue personnel? Are there better techniques for containing fires from office to office or floor to floor? Is the quantity of paper that was stored in these towers before, partially to blame for having kindling material everywhere? Is it feasible to arrive at the paperless office by the time construction is completed?

I do not propose to have all of the answers, but I would like to open the dialog to all of you and invite you to comment, respond, disagree, express yourself.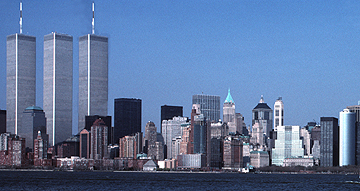 Your Opinions : Responses to Rebuilding the World Trade Center Memorial and Offices ~ Triple Towers Complex

Your opinions are valued!
Please send an email with your comments, please contact info@mri2000.com,
(Subject: Rebuild WTC).
---

I live in england and have pretty much been gagging to tell someobody very important who can do something about it what I think should happen about building the world trade center again. Funally enough in your website everything that I have read should be done. The design on which three towers stood together is an excellent idea and I don't mean excellent I mean just BRILLIANT. The ideas you come up with about better security in the new building. Checking tourists carefully before they continue through the building is a magnificent idea.

This shows strength for america when you see three towers stood together again, this tells the terrorists if you knock us down again we are going to get back up again. Naming the towers liberty- freedom- and -justice is great. Even if three towers don't get built and only two do that's even better because that shows america is strong and the world trade center will never be forgotton to an extent.

I think they should do your idea and keep the same design as it was and height and width of the building. I just hope your idea will go all the way. If I was to speak to you I would pressure you to tell somebody who can make your idea work and go all the way. If you spill your idea out to the public you never know they might like it. And you could tell that somebody about your idea and they might take your idea and go ahead with it. It is the best option if you wish your idea to be done for real.I would like it if I was emailed about your next up date on your idea on whether it will get out in the open and be done for real.
Good Luck.
Yours Sincerely,...........Mike Bell.


I'm a big three-tower fan. Build each of them as high or-- better yet-- higher than the original two. My own plan (http://www.warrenfarr.com/rebuild) uses triangular-shaped towers, but the square ones are more energy-efficient, have more floor space, and recreate more accurately the originals.
Have you considered interconnecting skybridges at the top, to double as fire escapes, giving people in the higher floors an alternate escape route? That would be a nice option I think. But keep thinking big, I like it!
Regards, ..........Warren Farr
http://www.warrenfarr.com
PS: Your graphics are extra good!



I am well aware of the fact that there are tens of thousands of proposals for the re-construction of the World Trade Center site, but I am compelled by a profound sense of Patriotism to give my two cents worth anyways.

The attack on the World Trade Center and Pentagon were attacks at buildings that symbolize America's strength and power. The Pentagon was restored to it's original beauty as a testament to the American Spirit that say to the world, "If you knock us down, we'll get back up stronger than ever"! That same message should likewise be sent to the world in the design and magnitude of the re-constructed World Trade Center complex., The idea is simple, rebuild bigger and better than what was destroyed.

I propose that the three towers of identical design be built on the site with the center area and interior space dedicated as memorial space. Those three towers named, Liberty, Freedom, and Justice will then reach for the stars and regain the title of World's Tallest Buildings for the United States of America.

I had this letter on my computer for months and had no idea who to send it to. Thanks for opening this web site. I too will be sending your site to friends so they can sound off also. Funding would be no problem. The American Public could pay for all three buildings through donations alone !!
God Bless America, ........Jim Middendorf

At the very least the WTC towers should be rebuilt to the same size as they were before. I would like to see them rebuild 2 towers in the same location, only 25 - 50 % taller, indicating we are stronger than ever. Or, use the proposal you are suggesting 3 towers identical to each other and the same height as before 9/11. The world community, Americans, New Yorkers and the families of the victims need and deserve a identical replica as a permanent memory as to the ultimate sacrifice so many gave.

.......Charles Ferguson

Thank you for updating me on the Triple Towers Complex. Clearly the idea is appropriate and thought provoking! I agree and support this proposal. How can I help? I would like to add the link to your listing and to highlight the concept in the August newsletter.

As part of the re-building I would like to see constructed the Mona Lisa Bridge to serve as a pedestrian overpass at Liberty Street. This idea is proposed by architect Vejborn Sand. <"http://library.thinkquest.org/13681/data/millennium/bridge.htm"> I look forward to hearing from you. Yours sincerely,
.....Steve

I trust you have received the latest edition of the Newletter in which the Triple Towers Concept appears. I hope you are receiving positive responses from our readership community of 2000 subscribers. Has there been any inquiries or responses regarding the concept?
The latest news says public opinion is in favor of restricting commercial use of the WTC space and also foreign architects are being encouraged to submit designs. I am hopeful we may get the bridge.
I look forward to hearing from you.
......Steve J. Feld

I think that to fully honor those whom passed on and those whom gave thier lives to save lives Sept.11, the W.T.C. complex should be rebuilt just as it was, with a memorial in the Towers themselves, I think most people feel the same, no need in making alterations, just putting themback as they were and showing the world that terrorist may have taken them down, but they will not keep us down.
.....Eric L. O'Dare

I just saw your website. I am e-mailing it to all of my friends. I think it is time for us to stop cowering and rebuild the towers grander than before.
Have you had much interest in your idea? How have the "professionals who know better" responded?

......Charlie Buscemi

YOUR OPINIONS are VALUED!
Please send an email with your comments, please contact info@mri2000.com,
(Subject: Rebuild the WTC).
Back to top of page